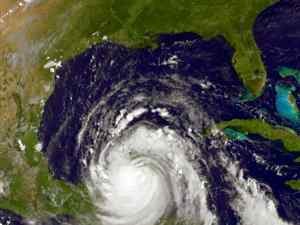 Hurricane Dean hits the Yucatán
Photo courtesy of NASA
The day is unusually dark and cloudy, and during the night the barometric pressure was jumping all over the place. The clouds seem to be a part of the weather system caused by Hurricane Dean, but there's a dead calm here right now, and the storm isn't technically supposed to hit Cuernavaca.
Hurricanes aren't usually much of an issue this far inland. Dean was supposed to hit Cuernavaca as a storm, but over the past 24 hours it has tilted north, and is now heading through the state of Veracruz on the way to San Luis Potosí, Hidalgo and Querétero as a category 1 hurricane.
That's a far cry from what it was when it hit the Yucatán penninsula as a category 5 hurricane – the most powerful storm to hit land in 20 years, and one of the most powerful in recorded history. There had already been 13 deaths in the Caribbean, and many people were left homeless.
Many of the news stories you've seen have said that there were no deaths in Mexico, and that the country was spared what could have been a disaster. One news story said,"Nature, good luck and good planning all combined Tuesday to deliver what the people of the Yucatan Peninsula called a miracle."
Well, that's not the whole story. We are thankful that no deaths have been reported, and it certainly could have been a lot worse. The Godzwa family in the Yucatán posted a bit about the hurricane, the most recent post here.
However, the storms have hampered communication and made roads impassable. It's hard to know what's really going on in many of the out lyingg areas. Though the well-developed tourist resorts weathered the storms well, the Mexican people often did not.
Many homes of the poor are cardboard, sticks and tin roofs (when those tin roofs go flying, they're pretty dangerous!). So far we know that about 1500 families in the state of Quintana Roo have serious damage to their homes, or lost their homes completely.
President Calderón cut short his visit to Canada, saying "I am worried, very worried, that the hurricane passed over some of our poorest Mayan communities in the Yucatan."
Dean is now a category 2 hurricane on the coast, where people are huddling in shelters praying they won't lose their homes. Good preparation has saved many lives, but some of Mexico's poorest may still lose their homes and belongings in the storm.