I heard the buzzer and started for the front gate. I didn't get there right away, and as I got close I heard the hum of a motorcycle. That could be the mailman, I thought, and I picked up the pace and quickly tried to unlock the door. I could hear the motorcycle turning around, and I was afraid I would miss him. Would I ever see my mail again if I missed him now?
I managed to get the door open and I caught the young man's eye. He pulled up to the door, and told me that the package was inside – behind me (of course, you need to imagine – his perfect Spanish, and my barely existent broken Spanish).
I looked around, not exactly sure where he meant. Finally, he explained that when no one came to the door, he just threw the package over the wall. That's great, except the "wall" isn't just a wall – it has an overhang on one side, and there's a storage building on the other. So essentially he had thrown the package up onto a roof.
He was very apologetic, and rushed in to help. I caught the scent beer on him, and briefly wondered how many he had had before he spun up the winding, busy street to our house. But together we tried to find a way up. I had never been up on that part of the roof, and we didn't own a ladder, but we did have a small wooden step. We both attempted to get up on the roof. No luck.
Finally, he jumped into a tree, which was thick with a large, thorny rose bush and other vines. With a struggle, he made it to the roof and found the package, throwing it down.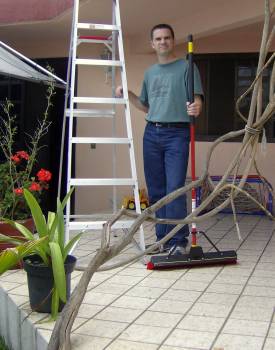 The new ladder and squeegie broom.
Photo courtesy of Hannah Cottrill.
The thought came to me that if I'd been a few seconds later, I never would have known the package was there, and the afternoon rains would have finished it off (it was a book). I wondered whether there were any other half-decomposed packages up there (there weren't).
The mailman found a place to jump down, and I thanked him several times and he apologized several times, and then left.
I guess I'd better check for mail up there once in a while I thought. But getting up there wasn't so easy. I climbed the other side of the roof (over the house) and discovered another problem. Some water wasn't draining properly, and there was a pond supporting an entire ecosystem – plants grew and creatures swam in the waters, and other creatures soared above the surface.
Someone a few days later unexpectedly sent us a gift of money (you know who you are – thanks!), and we were able to purchase a ladder and a broom/squeegie. Yesterday I checked for mail (none) and cleaned out the pond (it's gone) and fixed another drainage problem (water was leaking into the house).
Just a little glimpse of everyday life here in Cuernavaca, Mexico.