It could have been a day in the life of any missionary, but because of the confusion that the day started out with, I thought I'd add "first term" in there.
Moving Instruments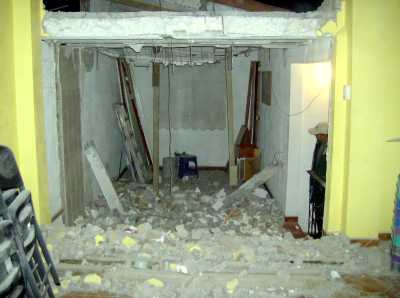 You may know if you've been in our photo gallery that there has been some construction going on in the building where our church meets. Basically they knocked out a room so they could expand the main meeting area. At the moment, there's quite a mess, and part of the roof is gone.
I thought we wouldn't be meeting there on Sunday. That's what I thought I was told. But I was asked to come early (8am) with the van to move instruments.
I got to the church and some people were there cleaning. Surely, we're not going to meet here, I thought. But I went with Miguel to go and pick up the instruments and sound system.
Sure enough, we were going to meet at the church. We carried the speakers to the door, Miguel first, but he came back and said something along the lines of,"Ummmm… I think we won't take these in yet."
I peeked in the door, and decided to agree with Miguel. Water was pouring from everywhere. It was cascading down the steps. It was pouring through the light fixture in the ceiling. It was dripping from various parts of the ceiling. And it was, of course, all over the floor, flooded.
A building half in construction, with rubble everywhere, dirt, and now a flood, isn't the best place for sound equipment. "I know everything is possible in Mexico," I told Miguel,"but I'm starting to lose faith that we'll have our service here!" I was joking. Mostly.
What had happened was that people were trying to clean upstairs. Because it's basically a construction zone now, they just took a hose to it – a lot of water —- !
Miguel quickly checked to make sure the electricity was turned off. I was dressed in a nice suit, because I knew I wouldn't have time to change all day. But I grabbed a broom and started sweeping the water out. Of course, the floor was sloped away from the door, so everytime you swept it toward the door, it came back.
Music Practice
Eventually, although the floor was of course still wet upstairs, we had it dry enough to bring up the equipment. But needless to say, we were a little late starting our music practice.
Music practice went fine, although there were several songs I didn't know, so it was pretty short for me. But we were already running 20 minutes into what was supposed to be a drama practice.
Drama Practice
I got everyone together for the drama practice, only to realize almost half the cast was missing. So we talked about possible practice times for the following week, and then I got them started going over some scenes as well as I could.
Unfortunately, I had the van, and I had to pick up Shari, Hannah and Nathanael after the practice and before the service (since I was playing keyboard in the service). So I had to leave the drama practice early, pick up everyone, and get back in time to play. I was technically late for the service, but the service was late too, so no problem there.
Sunday Service
The new setup of the meeting room resulted in a session of musical chairs at the beginning, but everything got straightened out eventually. I played as well as I could (9 fingers – one was sore for some reason), and right after worship Shari and I headed out (a family from the church was watching our kids for the afternoon and evening).
Appreciation Dinner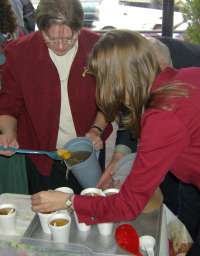 Jo Ann, Rollie and Shari
serving ponche
We rushed home, loaded up, and headed north to the Cena de Aprecio, the appreciation dinner for Christian leaders in CAM related churches in the Mexico City area. The trip went really well, and we arrived in good time to get set up.
The CAM missionaries were serving the tables, among other things. Our job was to serve ponche to people coming in (a delicious hot drink of Christmastime in Mexico), and later serve coffee.
All was going well, until the middle of the program when we tried to heat the water. We had three coffee makers – two for coffee and one for tea. We plugged them in and they started to heat up – and out went all the lights.
The good news is that earlier that day someone had rewired things so that the front area and the back (the kitchen and bathrooms) were on separate fuses. So for the most part we were able to keep the lights on in the meeting area.
But as we kept shuffling things, the power kept going off and on in the back. I'm not sure how they finished making the meal and how we finished making the coffee, but somehow it all worked out.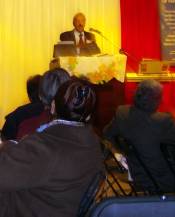 Mauricio Perez,
speaker at the dinner
After all, todo es posible en México (everything is possible in Mexico).
The dinner was a success as far as I could see. Christian leaders who often feel very alone in the work got to see that there are others serving the Lord. A challenging message was given. We got to know a few people and see some old friends. And God very clearly got the glory for it all.
We were disappointed not to see our friends from Cuernavaca, two of whom were supposed to be at our table. We're praying for the church in Cuernavaca, and hope we can see them again soon.
After hauling sound systems, cleaning up a flood, practising music, leading a drama practice, playing the keyboard in the service, packing up, and serving at the dinner, you might think I would be tired.
You would be right!
Not sure how we made it home, but we got back before 1am and thanked Paco and Lety for watching our kids. Then we went to bed, still able to get a few hour's sleep before getting up just after 6am today…
Sunday was a good day. I'm sure we could use a lot of other words to describe it, but let's just stop there. 😉