Yesterday was CAM International's 120th birthday! Yes, it was the 14th of November 1890 when the mission was formed. This was after a series of prayer meetings, where the founders in the USA asked the Lord how they could reach the overlooked mission field to the south.
The next year the first missionary family was sent. William and Minnie McConnell and their children arrived in Costa Rica in 1891.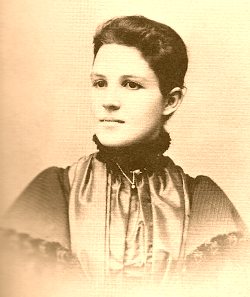 Mrs Laura Dillon
One of the first CAM missionaries
to die on the field.
Within a few years several other families and singles had joined the team. In 1893, 26 year old Clarence Wilbur was on an exploratory trip to Nicaragua (he was a missionary in Costa Rica as well). He became violently ill within a few weeks, and died of yellow fever. A lady who had been caring for him, fellow missionary Mrs Laura Dillon, caught the fever and died a few days later.
At the side of Mr Wilbur's grave, William McConnell said,"Let us ask God to raise up someone at once who will come and, standing by this new-made grave, give his life to the evangelization of Nicaragua."
More missionaries did come. When Mr. H.C. Dillon returned to the US with two motherless children, his testimony inspired the Bishop family to serve in Honduras and later Guatemala. Mr Dillon returned, eventually remarrying, though he died at the age of 33 in Honduras. Missionaries would be sent to Nicaragua and many other countries in the years ahead.
In 1950, CAM International of Canada was established (which makes this year CAM Canada's 60th birthday!).
CAM started reaching out to Mexico quite late in its history, partly due to Mexico's strict laws about missionaries and clergy (laws that were relaxed only a few years ago). The Mexico field has a history all its own. Right from the start CAM partnered with many different Christian churches within Mexico to help share God's Word.
So, a 120 year birthday is a great time to remember the sacrifices of so many believers who have come before us, whose shoes we can never fill. And yet, our responsibility is to make disciples in our generation. May God continue to transform hearts and create communities that will worship Him forever!