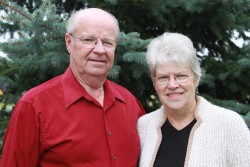 Dennis and Sharon Kirsch
Still more interesting news! A Canadian couple who has been serving in Mexico for the past five winters (at the camp a few hours north of us) are going to be taking on a new role at CAM International of Canada. Be sure to meet them if they show up at a location near you! 🙂 I understand they'll be at Miller College of the Bible in January and at Missions Fest in Edmonton in February.
PRESS RELEASE
FOR IMMEDIATE RELEASE:
September 29, 2010
Burlington, Ontario – APPOINTED: CAM International of Canada is pleased to announce the appointment of Dennis & Sharon Kirsch as CAM Canada Connectors. Based in Pambrun, Saskatchewan their role connects them with Bible College and seminary students, Boomers who are looking to share their professional skills or hobbies globally, as well as pastors and church mission leaders. Meet them at Missions Fest Alberta or invite them to attend your local church mission event in Alberta, Saskatchewan and Manitoba.
Dennis & Sharon have been "CAM Canada Snowbirds" serving in Mexico for the past five winters. Dennis invested his time on kitchen construction, insulating and dry walling cabins, reconfiguring water storage tanks, repairs and maintenance. Sharon uploaded online Spanish resources for ObreroFiel.com (Faithful Worker), accessed by seekers and disciples around the world. They also contributed companionship and encouragement to missionaries and watched the birth of a national church.
Prior to retirement, Dennis worked as Director of Facilities at Millar College of the Bible while Sharon was the Administrative Assistant to the college President. Before Pambrun they lived 20 years in Regina where Dennis worked for a building contractor and then in the feed industry. Sharon served with Child Evangelism Fellowship. After graduating from Millar (Dennis) and Briercrest (Sharon), they served in Village Missions in B.C. The Kirches are currently based in Pambrun and worship with Church of the Open Bible in Swift Current.
The mission of CAM International is to produce and empower committed followers of Jesus Christ in Spanish-speaking areas to reach the world. More people speak Spanish than Arabic or Russian. At least 92% of Spanish speakers are without Christ. Millions of Spanish speakers live without hope or purpose in fatalism, corruption and fear. As the church in Latin America continues to grow and mature, its understanding and commitment to fulfill the Great Commission is also growing. CAM's focus is increasingly on the transformation of communities of Spanish-speakers, the training and empowering of transformational leaders and on the development of holistic ministries in Spanish-speaking countries which will better enable the mobilization of multinational teams globally.
Contact:
Charlene de Haan, Executive Director
CAM International of Canada
Phone: 647-977-3226
E-mail: Click to send
Web: www.camcanada.org