Monday was the day of Hannah and Nathanael's Christmas program at their school. It was in the evening, and they were just finishing a quiet time and Shari was just about to serve lunch.
And that's when Nathanael got his finger caught in the door.
We were able to get to the doctor right away. The doctor put some freezing in the finger (two needles – definitely one of the low points of the day for Nathanael!), cleaned it and bandaged it up.
To make a long story short – and without getting to graphic – Nathanael lost his fingernail and the tip of his finger. Not too much of it – the doctor thinks it should pretty much grow back to normal, thanks to the way fingers are designed and the angle on which it was cut off.
Speaking of which, it really is the grace of God how our fingers are designed! Injuring the ends of our fingers isn't such an unusual thing – after all, we touch things with them all the time! And yet there's mostly skin and fat, with non-crucial endings of nerves and of course blood vessels (boy, fingers sure can bleed! Oh, sorry. We won't talk about that any more). So for the most part injuries there can heal relatively quickly.
So set your mind at ease – in the title of this post, I was talking actually about the end of Nathanael's finger – I wasn't saying it was gone forever!
That being said, obviously Nathanael has had to and will have to put up with a lot of things (like pain)! He is taking something for the pain. And he's been generally doing very well. Thankfully he's been sleeping well at night, and was even able to go to his Christmas program.
Speaking of the Christmas program, we were a little late but we made it before the school doors even opened. Nathanael went up and down the line showing off his finger. The kids thought it was the coolest thing ever.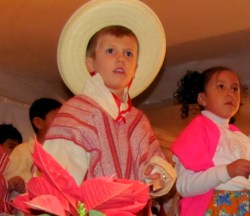 Nathanael as a shepherd
And Hannah and Nathanael both did a great job. Maybe I can show you some pictures and even video later. They were both shepherds. (I told Nathanael he should tell the other kids that a sheep bit his finger, but he didn't think that would be honest.) 😉
There was a slight bad interlude during a performance where the kids in Nathanael's class were supposed to hold hands – and his hand got twisted – but he got over it quickly and did a fine job.
So we're headed back to the doctor this morning to have his finger checked and the bandage changed and all that. I'm sure Nathanael would appreciate your prayers over the next little while!
The rest of the family is still a little sick too (aside from Hannah, who almost never gets sick). But perhaps we can all chat with the doctor this morning. 🙂