After lots of preparation, and a whole lotta help from my friends and family, a new study will be starting up tonight. The topic? Where did the Bible come from?
It all started at the suggestion of Mayra Fry, and is based in part on questions that people have asked me recently regarding the Bible. So, after reading books, listening to seminars, studying the Bible itself and doing other types of research, I'm (more or less) ready to teach the first study!
In some ways, this will be the opposite of the Chronological Bible Study, which was intended to be highly discussion-based. This will be much more taught, although Lord willing there will still be a lot of participation. Here are some of the questions we'll be talking about:
The books of the Bible have been copied and copied and copied – is any of it still what was originally written?
Why do some Bibles have more books than others?
What did God's people do before there was a Bible?
Who decided which books would be a part of the Bible (any why)?
Why all these different Bible translations?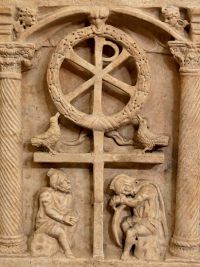 A carving depicting the victory of
the Resurrection
With the chi rho or chrismon symbol
Rome, circa 350 AD
In some ways, we'll be approaching the topic like a first century Greek might. If you were introduced to this strange new religion for the first time, what would you think? What questions would you have?
The early believers focused on something highly unusual – the Resurrection. And that's the topic tonight. What were unbelievers at the time saying about this new religion (outside of the Bible)? What did the early believers have to say (inside and outside of the Bible)? Why this strange obsession with the resurrection itself? What was it that people were actually willing to die for?
In a short period of time, a religion focused around a man who had been crucified spread from Jerusalem to Rome, in spite of what we might call very un-marketable beliefs.
Getting into the mindset of the early believers will give us the keys we need to unlock the mystery of the Bible.
Thanks for your prayers! The study starts… NOW!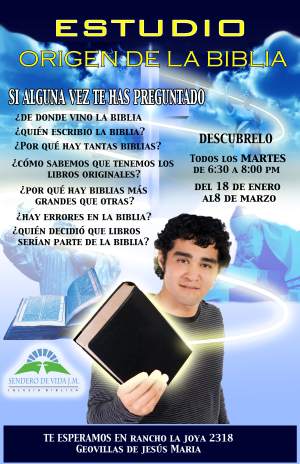 Promo poster courtesy of Samuel Valtierra