Today. Stuff just keeps happening.
Today we got to "see" our nephew Ethan for the first time – all the way from Nairobi – via Skype! Here's a snapshot of the little fella and his Mom. He was 5 days old.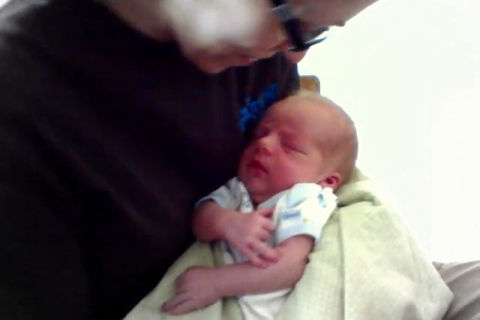 Today I sent some documents to our lawyer, as we continue to work on our visas. I sent her 51 papers – yes, 51. (Not including photos of us) May the arrive safely and be accepted by the powers that be! What a looooooong process . . .
Today I have a Bible study. In just a few minutes, actually – I'm just about to head out the door.
This week's study is How can I understand the Bible? and next week's is How can I study the Bible? Trying to boil down those topics to something useful has been quite the experience. We'll see how it goes tonight as we talk about some basic principles and try them out on some passages.
That's not all, but that's some of what's going on today. But not time to write more! Today was painful, difficult, blessed and challenging. And tomorrow is coming fast.