Today at 9am a new season of classes begins at the community centre in Jesús María! Things will kick off with sharp objects, wild yarns and everyone in stitches – that's right, Tina's knitting class!
Tonight even more fun, with the coffee shop open again (at last!), drum lessons, basketball, and family photo sessions!
Here's the handout for the classes that are coming up in the next few weeks. We're having a little discussion if everything on the list is correct – but hey, things tend to change from one week to the next here anyway!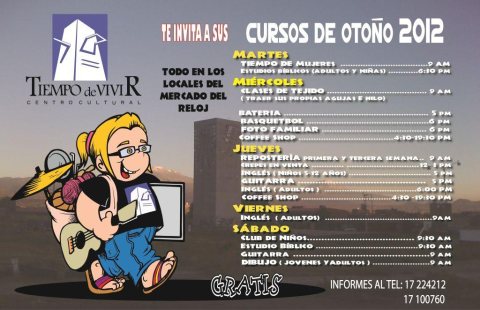 Naturally, any resemblance between the cartoon girl and our friend Tina is strictly intentional. Life is never dull with a cartoonist in the church like Samuel.

Not a part of the community centre schedule, but also starting this week, is a class just for those who want to play keyboard in our Sunday services. I'll be teaching that every other Thursday, basing it on a class I already gave at the other church here.
The classes will continue until the 7th of December, when we'll have our closing program.
We would appreciate your prayers as we offer what we feel is a valuable service to the community, make new friends, and renew old friendships this fall.
If you've missed them, be sure to check out our photo gallery for pictures of the Independence Day party at the community centre a week and a half ago.