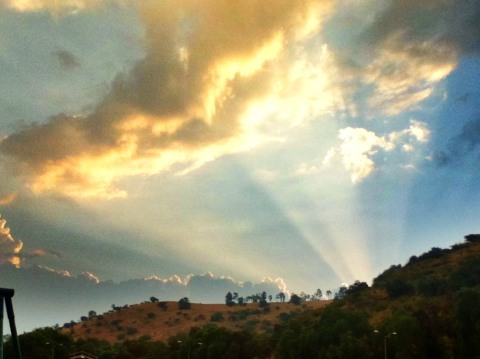 Tonight's sunset from Jesús María, Ixtapaluca
Tonight we had our Bible study on the subject of prayer.
The words of a Mexican hymn kept going through my head:
Jesús es mi Rey soberano,
Mi gozo es cantar su loor,
Es Rey, y me ve cual hermano,
Es Rey y me imparte su amor.
Dejando su trono de gloria,
Me vino a sacar de la escoria,
Y yo soy feliz, Y yo soy feliz por Él.
Jesus is my sovereign King,
My joy is to sing his praise,
He's King, and he is my brother
He's King and he gave me his love
Leaving his throne of glory,
He came to lift me from the mire
And I'm happy, and I'm happy because of him
Praying to Jesus, the Sovereign King. Some people may feel that it's pointless – after all, doesn't He already have His own plan – why does He want my feeble prayers?
I think, however, that it's a wonderful thing to pray to the Sovereign King. On the one hand, it's incredible to know that He has control – He has the power to help us. And He does have a perfect plan.
At the same time, He uses our prayers to change the world.
He's a loving King, an understanding King. And He is our high priest, who shed His blood for our redemption. (Hebrews 4:14-16)
Tonight I think of so many prayers that are going up to God – prayers for family members who don't know the Lord. Financial needs. Safety. Health. The needs look overwhelming.
And then we look up, to a loving, sovereign God. And light shines from somewhere unseen. And everything looks different.
Now to him who is able
to do far more abundantly than all that we ask or think,
according to the power at work within us,
to him be glory in the church and in Christ Jesus
throughout all generations, forever and ever.
Amen.
Ephesians 3:20-21