This is a bit of an unusual retro post, but it does say something about what life was like ten years ago today.
The poster below was put up at our language school in Cuernavaca. It lists the "essential elements" of the ofrenda, the offering to the dead that you'll see at most schools, homes, churches, and even at many places of business, during the Day(s) of the Dead.
The list itself, which I'll translate for you below, says a lot about the mixture of pagan, Roman Catholic, and secular ideas that were a part of the celebration then, and now. (Examples: the images of saints – Roman Catholic. The "journey" of the dead – Aztec. The "Catrina" (skeleton figure pictured) – originally a political cartoon, although now has taken on religious meaning.)
It was at language school that we learned that this was for many people the most important and most "Mexican" celebration of the year. We were under tremendous pressure (as were our kids at school) to take part in the offerings to the dead. As far as cultural pressure goes, this is one of the most difficult times of year for Mexican believers.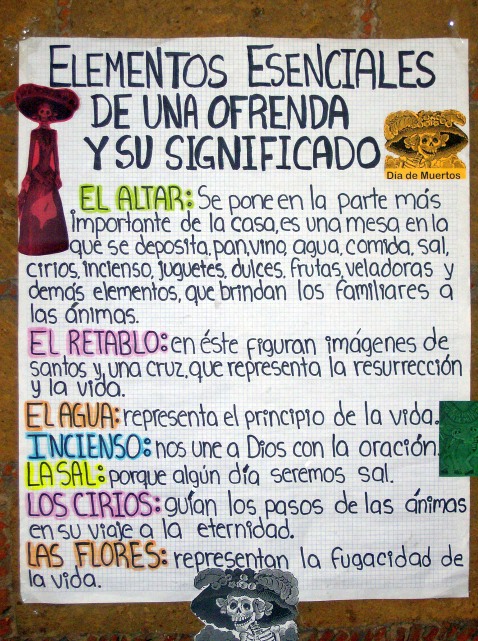 TRANSLATION: Essential Elements of an Offering and their Significance
The Altar: Becoming the most important part of the house, it is the table where bread, wine, food, salt, altar candles, incense, toys, candies, fruits, candlesticks, and other elements are placed by family members for the spirits.
The Altarpiece: Here there are images of saints and a cross, which represent the resurrection and life.
The Water: Representing the beginning of life.
Incense: Uniting us to God with prayer.
The Salt: Because one day we will be salt.
The Altar Candles: Which guide the steps of the spirits in their journey to eternity.
The Flowers: Representing the brevity of life.