'Twas a night in the winter, and all through the house not a creature was stirring, not even a mouse.
When up in the washer there arose such a clatter, Shari sprang from her bed to see what was the matter!
It was the dreaded "unbalanced load", tossing the washer around the room and waking us up in the middle of the night. Shari fixed it, and she sustained only minor injuries.
But why, may you ask, was the washing machine even going in the middle of the night?
Well, over the past many weeks, our water pressure situation, which is always up and down (see shower flow chart), has gotten worse. Actually, it's been worse since the earthquakes.
Shari started staying up very late, and getting up very early, trying to get one load done. And we've made use of the laundromat.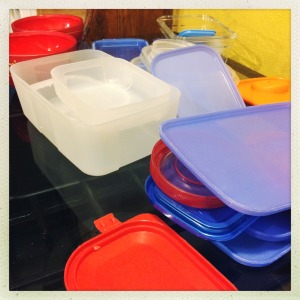 On Sunday, I spent hours and hours washing dishes, with the small trickle of water. (Wow, look at all those containers I washed! And there were more later. I guess that says something about what we did over the holidays! But alas – the cookies are gone. Only a bit of rosca remains on the counter.)
Yesterday there was no water to shower with.
I realize I say all this when almost a third of the world's population don't have access to any basic sanitation. And although we have to go to the store to get drinking water, at least we have access to it. So there is reason to be thankful!
But that doesn't answer the question of what to do. Somehow, we do need sleep, and we need to not spend all our time trying to stay clean. Shari has been communicating with the water company, so we'll see what happens there. There are possibly things we could do to the house to improve pressure, but it would take quite a bit of money.
So for now we're trying to find options for washing clothes (wash them somewhere else? Laundromat again?), and trying to make use of the trickle when we have it!