Can we serve your Church or Small Group?
What's this all about? When we travel in the USA or Canada, we like to find creative ways to serve churches and small groups. Obviously we're happy to share about what God is doing here in Mexico, and I'm always more than happy to preach or lead a Bible study, etc… But we wanted to list in a little more detail some of the things that we can offer.
2000 Years of Missions (seminar)
Summary: 2000 Years of Missions is designed to give a fun interactive overview of 2000 years of missions history. You'll be able to get a very visual view of what happened when, how God's Word has spread, and some of the methods people have used. Not only that, you'll also get an up-close and personal introduction to missionaries all throughout history, from the Apostle Paul to missionaries of the last century. Finally, you'll see where we are today in the task of reaching the world for Christ. [video clip of this seminar]
Format: Suitable for larger groups (ie 10-1000), youth or adult; some space required (ie a stage or one side of a large room); overhead projector or video projector and screen needed; I do need some set-up and take-down time on location.
Length: This seminar is in two parts, so it could be done in one day with a break, or over two evenings, etc. Generally it requires about 1.5 hours for each half, but I've been known to shorten it to about 45 minutes per half in a pinch. 😉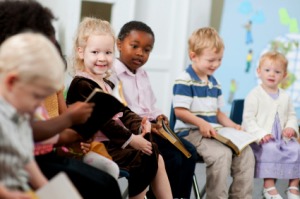 Children's Ministry Seminar
Summary: The Children's Ministry Seminar is designed to help you share God's Word with children in creative ways. Have you ever wanted to design your own vacation Bible school? How about share the Gospel with a child, so that she will understand? Would you like to teach a Sunday School lesson in a way that the children will remember? Practical tips and time to interact and practise what you're learning.
This seminar has been taken by Sunday School teachers, but is suitable for pastors, teachers, parents, and anyone who wants to reach children effectively. [video clip of this seminar]
Format: Suitable for any size group; Tables preferable; Interaction with others taking the seminar
Length: About 2.5 hours
Maximizing Your Short Term Mission Trip
Summary: We've been on teams, trained teams, sent teams, travelled with teams, and now we've seen the other side as we've had a part in hosting teams here in Mexico. And we believe that short termers can have an eternal impact. But often teams don't know how to prepare – or think they don't need to.
This seminar will prepare you to deal with every phase of a short term trip. What questions can you ask an organization or missionary before you go? What are the most critical things you need to do to prepare? How can you deal with health issues, personality conflict, and other challenges on the trip? How can you make this trip worth something in the long term – both for those you serve, and for yourself when you return? [video clip of this seminar]
Format: Very interactive, talking about ideas and tips with time for questions (flexible depending on the interests and needs of the group); Any sized group, and no space requirements
Length: About 1.5 to 2 hours
Where did the Bible Come From?
I originally developed this material and used it here in Mexico, but we have also had the opportunity to share it in Canada. These are especially issues that our youth face as they go off to college and university.
This is an 8 week course, however there are other options. We could actually do the whole thing as a seminar – over a weekend, for example. Or every night for a week (maybe in 5-7 days).
Important: I have re-tooled this into a two day seminar, which could also be a one day seminar, about 6 hours total. We have generally done this, on a Friday night and Saturday morning, but it could also be all day Saturday. Let us know if you're interested!
But we can also present an individual topic as a stand-alone study – in a Sunday School or small group, for example. Some of the issues we could cover (in other words, one of these topics per study) might be:
The early history of the New Testament – where did it come from?
The Four Gospels – why are they important? What about the "Lost Gospels", like the Gospel of Thomas?
How do we know that the Old Testament was copied accurately over so many years?
How do we know that the New Testament was copied accurately? Do we really have today what the apostles and others wrote back then?
What is the Canon? Who chose what books would be in the Bible?
Format: Multi-media interactive seminar. A video projector is required. Suitable for groups from 5 to 40 – or larger groups, as long as I have an idea how many in advance.
Length: Between 45 minutes to 1.5 hours for each session, or two sessions about 3 hours each, or a full day seminar (about 6 hours of teaching/discussion).
Drama in the local Church
This is very flexible depending on the needs of your church. I've trained both short term teams and groups in churches to use drama or improve their use of drama in a church context, and I recently developed a course in drama for our community centre in Mexico. I've also taught a short biblical introduction to drama as a part of a college course. I would be happy to give a church a boost in their drama program or ideas on how to start one.
Book of Hebrews Presentation
Some scholars believe that the book of Hebrews in the New Testament was originally a sermon. So I was wondering what it would look like if I preached it as one. I've "preached" Hebrews twice here in Mexico, with hand outs and a PowerPoint presentation. It takes an hour, but it's amazing to hear the whole book at once and get the full flow of thought. It's pure Hebrews!
Format: A "sermon" suitable for 10 people or more, suitable for youth & adults who want to learn from Hebrews.
Length: About 1 hour
Since it's a question I always get, I should mention that we generally don't charge anything to churches that get our newsletter. If it's a large group and they want to contribute to the cost of photocopies, that's fine. Of course, if we were travelling somewhere just to give a seminar, we might need help with the travel expenses. But if we're giving them when we're already in the area, it's not a problem.
The idea is to serve your church or small group and give you resources that you can make use of. Our pleasure.