Today we continue the story of William Whiting Borden which we started yesterday.
World Missionary Conference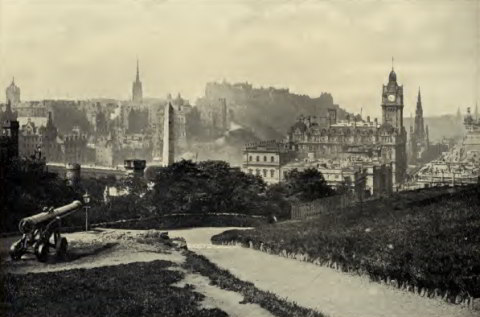 Edinburgh, Scotland (1910)
In 1910, a major missionary conference was held in Edinburgh, Scotland.
This was at the height of the push inland by missionaries, who had naturally started reaching the coastlands over a century earlier.
The Student Volunteer Movement continued to fuel the missionary movement, and the 22 year old Princeton student, William Borden, was attending.
William joined thousands of men and women (probably 13-16 thousand), primarily from the western world. Once again, a major topic of the conference was the desire to reach Muslims for Christ. From the China Inland Mission, former missionary to China Marshall Broomhall wrote a report called Islam in China, a neglected problem.
Samuel Marinus Zwemer was back, making a stirring speech again calling for missionaries to come and reach the Islamic world.
Returning to Princeton, William Borden was more "a man with a plan" than ever.

A few of the thousands at the conference
Student to Missionary
Borden finished up his studies at Princeton. As always, he was heavily involved in a number of activities, even working to develop a doctrinal statement for the Moody Institute.
In 1912 he was accepted as a missionary with the China Inland Mission. His assignment was to work in China among the Muslims in Gansu province, to the north of the country.
Borden had already been speaking at churches and universities during his time at Princeton. As 1912 progressed, he became involved in evangelism in New York, preaching on the streets. He spent three months travelling as a representative of the Student Volunteer Movement, speaking at 30 campuses and inspiring many to become missionaries.
In the fall, the Chicago Avenue Church ordained him to the missionary work in China.
Finally, in December 1912, he was ready to go. At that time, the China Inland Mission had 1000 members. Following Zwemer's encouragement to learn Arabic, he left for Egypt, where Zwemer was now living.
To those who knew him, Bill Borden seemed like the ideal missionary. He was deeply committed to God, a man of prayer. He was down to earth, and clear headed. He was athletic, and intelligent. Not to mention very well funded!
But from the world's view, a society man, heir to $5,000,000, was not expected to throw away his privileged life to live among the Chinese. The newspaper article to the right, published two months before Borden sailed, struggled with the question. The author concludes that there are plenty of wealthy Americans and opportunities for society in China, and that the Chinese culture itself was worthy of study. It ends by saying,"An heir to $5,000,000 might do worse than to start out life as a missionary in China."
Cairo, Egypt
Arriving in Cairo, Borden threw himself into his studies. He lived with a Syrian in order to learn better Arabic. But typically, he found time for more than just Arabic and Muslim literature. He organized an outreach in the city.
Of 800,000 inhabitants, the plan was to distribute literature to all of them – door to door. The literature was in Arabic, written in a culturally appropriate way. To the amazement of many, people began to take the booklets and read them.
Borden's love for the people was obvious. He got along well with the local believers, missionaries from various countries, and of course the Muslims themselves.
In March 1913, Borden was ordered to bed with a mild fever and a headache. Not improving, he ended up in the hospital.
Easter Sunday (March 23rd) passed, and Borden was still in the hospital. His friends went to get more information, and were told that Borden had meningitis.
After a time when they were unable to contact his mother Mary, she finally got the news and headed for Cairo. She arrived at 1pm on the 9th of April. William had died at 9am that morning. He was 25.
Aftershock
The news quickly made its way around the world. As always, the newspapers were interested in the money. Where was Borden's money going to go?

The largest amount went to the China Inland Mission. A quarter million, with $100,000 especially for old and infirm missionaries. (A 25 year old had that in his will?)
$100,000 went to the Chicago Avenue Church. Other amounts went to Bible education, evangelism efforts in the USA and around the world, and other Christian work.
What?! The papers shrieked. Nothing for Mama?
William's mother Mary likely had enough resources of her own. But dedicated to the same Lord, I'm sure she understood.
William Borden's life and death impacted believers all over the world, and it continues to impact believers today. Zwemer, who performed Borden's funeral in Cairo, returned to the USA later that year to speak at the next Student Volunteer Movement Convention in Kansas City. With tears in his eyes, he hoped for more missionaries who would take William's place.
Borden was on the honour role of student volunteer missionaries who had died (along with Anna Limberger, Methodist missionary to Mexico – but that's another story!).
A biography of William Borden for Muslim readers was translated into 5 languages. 35,000 copies made it into China. Those biographies opened the doors for missionaries who otherwise would not have been able to enter various areas of the country.
And Borden's influence continued to spread.
No Reserves. No Retreats. No Regrets.
And now, the minor mystery.
These words, No Reserves. No Retreats. No Regrets., have long been associated with William Borden. But why?
Early sources I've seen don't mention the words at all. But with a little further research, I've found three stories about where they came from. Which one is true? Or are they all true?
The first story is that a crumpled piece of paper was found under his pillow at the hospital after he died. On the paper were these words. I've seen this story more than one place, including the Biographical Dictionary of Christian Missions, edited by Gerald H. Anderson. But if this had been the case, wouldn't it have been big, inspiring news right from the start?
The second story, fitting with Samuel's banner, is that the words were written in the back of his Bible.
The third story is that the words were written in various places in his Bible separately, and dated. The story goes that he wrote each phrase during a time of major transition or sacrifice in his life. An inspiring story – and it would explain why it didn't come to light right away. However, it does have the taste of a legend that developed over time.
I could add another – a popular book on Borden mentions the phrase, but doesn't say where it came from. Could it be that these words came to be associated with him, even though he never actually wrote them?
There are some twists and turns in the mystery that I won't bore you with. However, if you have any information from the first few years after Borden's death, please let me know. Also, if you're around Wheaton College, and want to do a little research, the answer may be there.
However these words certainly did characterize the life of the young missionary who did so much in a short time. Although he never reached his field of service, his life impacted China and the world.
Just a few years before Borden's birth, American Mary James wrote these words. I think they're a fitting conclusion:
All for Jesus, all for Jesus!
All my being's ransomed powers:
All my thoughts and words and doings,
All my days and all my hours.
Worldlings prize their gems of beauty,
Cling to gilded toys of dust,
Boast of wealth and fame and pleasure;
Only Jesus will I trust.
All for Jesus! All for Jesus!
All my days and all my hours;
All for Jesus! All for Jesus!
All my days and all my hours.
Selected References:
Students and the modern missionary crusade (1906)
Heroes of the Campus (1917)
No Reserves. No Retreats. No Regrets. (1970)
Borden of Yale (1988)
Biographical Dictionary of Christian Missions (1998)
Bill Borden: Challenge to a Consecrated Life (2012)