It's one of the most important days of the year in the Mexican calendar – perhaps for many rivaled only by the
Days of the Dead
in November. That day is December 12th.
Now it's really not just one day, because for many there's a buildup to this day, which is traditionally the beginning of the Christmas season (although, let's admit it – Christmas things started appearing in stores in August).
The 12th is, of course, Día de la Virgen de Guadalupe, or the Day of the Virgin of Guadalupe – the day when the Virgin of Guadalupe is said to have appeared in Mexico to and indigenous man named Juan Diego in 1531.
So the days before the 12th are days of pilgrimage, as tens of thousands of people make their way to Mexico City's Basílica de Guadalupe, probably the world capitol of devotion to the virgin Mary.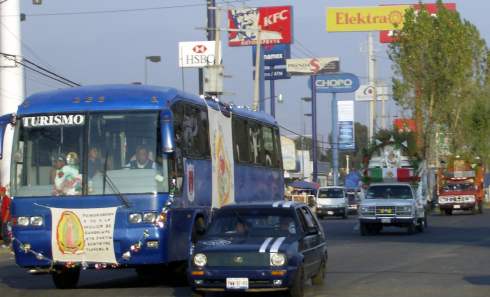 Buses decorated to honour the Virgin of Guadalupe.
This front one actually must be travelling with pilgrims who were walking,
because on the front it specifies "Pilgrimage by foot" with the names of the towns people are coming from.
Other decorated vehicles can be seen behind.
Some walk, some ride bicycles, some ride in trucks and vans and cars, all specially decorated. Many carry framed pictures of the Virgin, taken right off the wall of their home, to have it blessed with new spiritual power.
One of the major routes as many are on the last leg of their journey is the street we drive down to take Hannah and Nathanael to school. I snapped a few pictures, as you can see, of some of the pilgrims and their vehicles so you could get an idea what it all looks like. Since I took them while I was driving they're not great, but hopefully they give you an idea.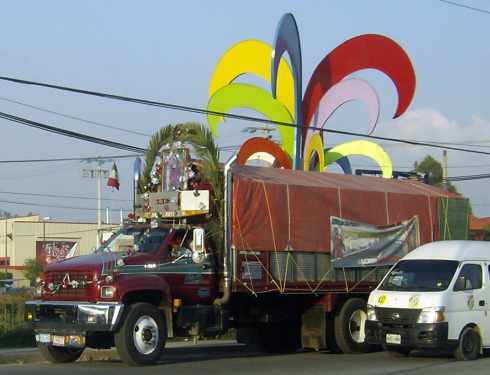 An ornate pilgrim's truck, likely with pilgrims riding in the back.
On the front, a framed image of the Virgin of Guadalupe.
(By the way, that colourful thing above is the top of a local monument – not part of the truck!)
This might give you another idea of the forms of devotion taken by those honouring Mary here and around the world. These are some
Psalms used for prayer
– not from the Bible, but Psalms specifically written to Mary. It's from the website of a
Franciscan order
of the Roman Catholic Church.
Some excerpts: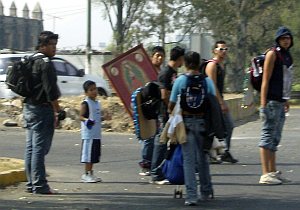 Pilgrims on foot. You can see the big framed image, and there are probably other decorated images there.
When I called upon thee, thou didst hear me, O Lady: and from thy throne on high thou hast deigned to be mindful of me. From the roaring of the wild beasts prepared to devour me: and from the hands of them that sought me, thy grace will deliver me. (4)

Save me, O Mother of fair love: fount of clemency and sweetness of piety. Thou alone makest the circuit of the earth: that thou mayst help those that call upon thee. (11)

The heavens declare thy glory: and the fragrance of thine unguents is spread abroad among the nations. Sigh ye unto her, ye lost sinners: and she will lead you to the harbor of pardon. (18)

In thee, O Lady, have I hoped, let me never be confounded: receive me in thy grace. Thou art my strength and my refuge: my consolation and my protection. (30)

All ye nations, clap your hands: sing in jubilee to the glorious Virgin. For she is the gate of life, the door of salvation, and the way of our reconciliation. The hope of the penitent: the comfort of those that weep: the blessed peace of hearts, and their salvation. (46)

O God, thou hast cast us off because of our sins: thou hast had mercy on us by the Virgin Mary. Intercede for us, O saving Mother of God: who hast brought forth salvation for men and angels. (59)