Thanks to anyone who prayed for our morning service this morning. The Lord certainly answered some specific prayers of mine.
I actually preached on . . . drum roll please . . . marriage! Well, marriage in the broadest possible terms. Why marriage is more than just a random teaching in the Bible, why it's representative of the Gospel, God's relationship with His creation, with his people – even the nature of God Himself.
The climax of our study was Ephesians 5, but we did indeed go all the way from the first verse of the Bible to the last verse, with stops in the law, major and minor prophets, Gospels and epistles.
Although the sermon wasn't dependent on the point, we did look a little at what it means to be made "in the image of God". The Bible doesn't go into great detail on this point, and so there has been a lot of speculation.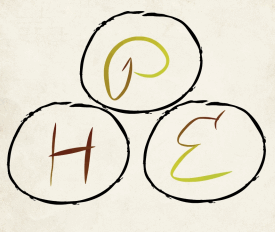 Padre, Hijo, Espíritu Santo
Father, Son, Holy Spirit
For example, some suggest that there's a hint of the Trinity in us because we are three part beings (spirit, soul and body).
Others have suggested things like morality, intellect, and creativity. But don't the angels possess these things? The Bible doesn't say that they are made in God's image.
There are a couple of things actually in the context –

Then God said, "Let us make man in our image, after our likeness. And let them have dominion over the fish of the sea and over the birds of the heavens and over the livestock and over all the earth and over every creeping thing that creeps on the earth."

So God created man in his own image, in the image of God he created him; male and female he created them.

(Genesis 1:26-27)
In ancient times, the king was said to be God's image on earth. Why? Because he was God's representative – he had God's authority on the earth.
That makes sense in the context.
But there's one more thing in the context – quite clearly. He made them male and female.
Maybe we're just so used to thinking about individuals – how an individual person is made in God's image – that we're missing something. Maybe being in God's image has to do with being male and female.
God is a Trinity – one being (God – divine), but three persons (Father, Son and Holy Spirit). There exists an eternal relationship of love within God Himself.
Three different persons, in perfect love.
So He created two humans – but different ones – who could love.
Of course, God didn't create another trinity – why? Because male and female represent something else. God's relationship with His creation. Ideally a relationship of love.
Later, it came to represent God and Israel, God and Jerusalem – finally Jesus as the bridegroom of the Church.
The more I looked at it, the less far-fetched it seemed – that male and female is a key part of what it means to be made in God's image. It's not the full picture, but that loving relationship between two different persons is certainly a running theme through the Bible.
Which is why God wants us to demonstrate His love, and His Gospel, through our maleness and femaleness, and especially through marriage.
Which makes the Bible's teaching on marriage more central than a lot of people would like to believe.
As Paul said,"This mystery is profound, and I am saying that it refers to Christ and the church." (Ephesians 5:32)