Every Saturday morning at the community centre – starting today – there are music classes. This morning some of the students were on a trip (lots of people from the church went to some really cool caves today), so there were only a couple of students practising violin.
We took Brittany so that she could take some pictures, and I wanted to take a few as well.
At the last minute I couldn't find my camera (which I had carefully hid right in front of my nose), so it was an iPod-only photo shoot for me.
Here are the girls and their teacher…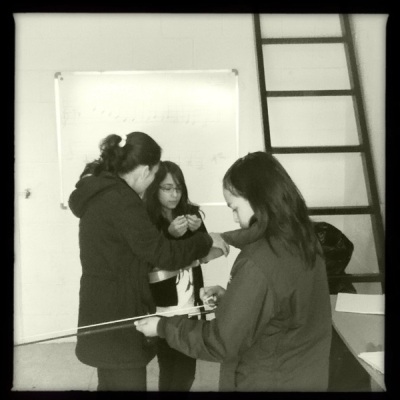 Incidentally, this was taken with the Hipstamatic app, of which I am a huge fan. I used the Jimmy lens and Claunch 72 Monochrome film with no flash. If you have the app, you'll know what I mean.
I'm attempting to take and post 30 photos in 30 days. I think this was day 11, but I could be wrong.