Today was the second-last of the
Where did the Bible come from?
series. And so we had –
the Bible Translation Museum of Santa Barbara, Ixtapaluca
!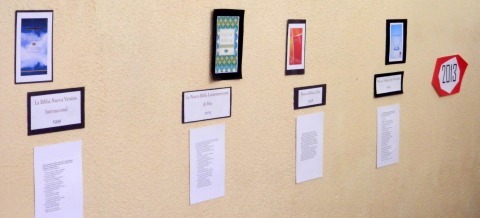 I made a few improvements from the last time, and added a new version or two. It really is interesting to see so many versions side-by-side, to see the differences in wording and sometimes differences in verse numbers and other interesting things. We saw some of the earliest Spanish Bibles (so early that my students couldn't read the weird medieval Spanish!), modern translations, popular Bibles, forgotten Bibles, the first Mexican Bible… and we even talked about some of the worst translations out there (they're out there in more ways than one).
I learned a few things tonight. I took the time to compare some of the translations (because, after all, I don't have room to lay them all out like this in my house!), and there really are some interesting things that have happened through the Reformation, Independence, the Revolution, modern times – anyway, I won't go into all the details here. 🙂
By the way, I updated my page on Spanish Bible translations online right here.